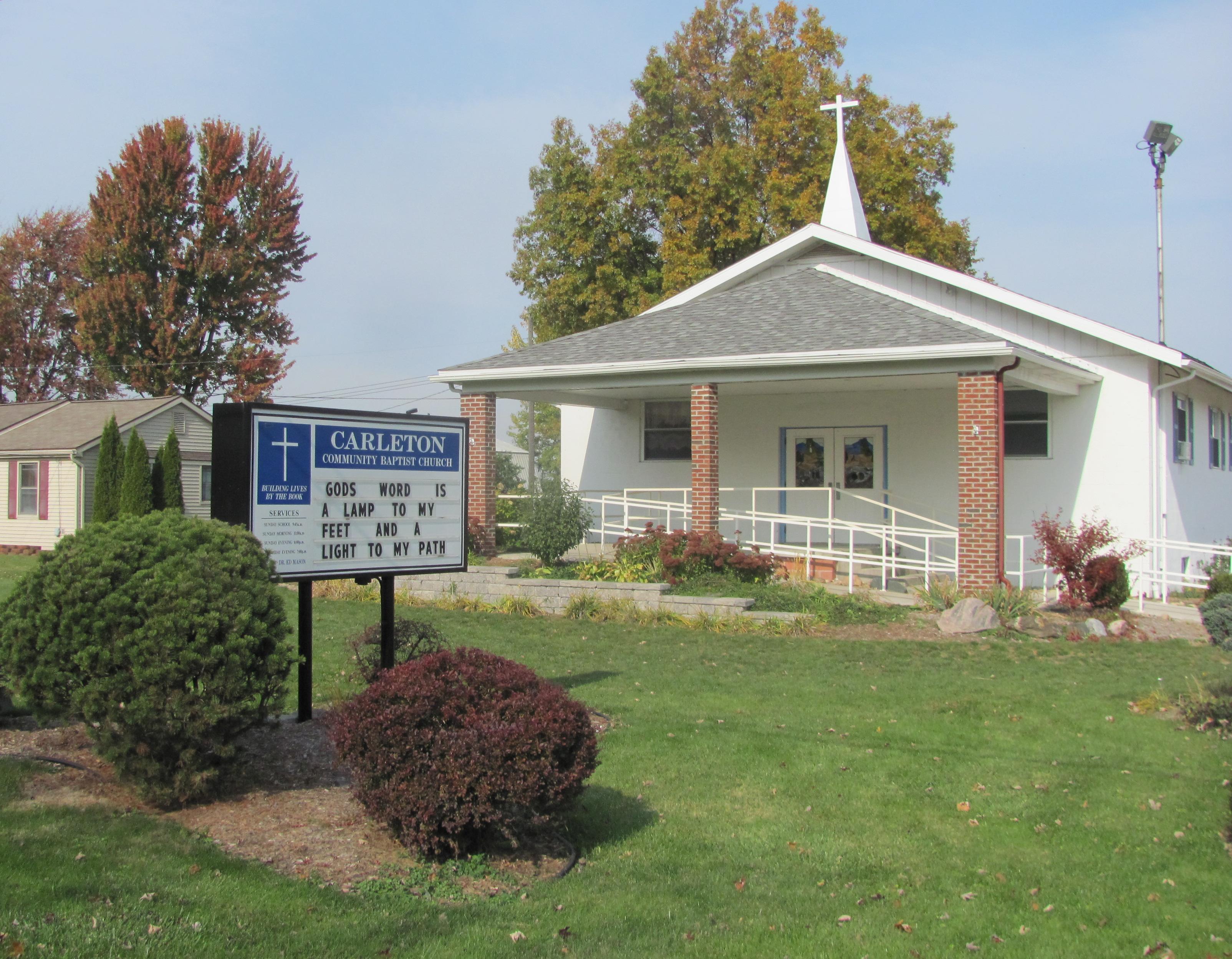 Welcome to Carleton Community Baptist Church! (CCBC)
We are an independent fundamental Baptist church located in Carleton, Michigan. This website is designed to help communicate Carleton Community Baptist Church to you as simple and friendly as possible.  Please have a look around. 

The small village of Carleton, Michigan is a great place to raise your family.  We are located next to several major freeways and not far from Detroit, Michigan or Toledo, Ohio.  Carleton has much to offer everyone.  In addition to Carleton being a great place to live it is where Carleton Community Baptist Church (CCBC) is located.  We would love to have you visit our church soon. (Click here for directions).

__________________________________________________________________
__________________________________________________________________
Be a Five-Star Christian:
A great church is made up of strong Christians and strong Christian families.
Read God's Word
The Bible says, "Faith cometh by hearing and hearing by the Word of God." Reading the Bible is vital to the Christian life. As we read the Bible, we should search the Scriptures, comparing Scripture with Scripture. Also, set a goal to memorize Scripture and meditate on the Word of God. In our personal lives and with our families each day, we need to be reading the Word of God.
Pray
We believe that God hears and answers prayer. There is no doubt
about it, the greatest untapped resource in the Christian life is the matter of prayer. Pray each day. Pray for loved ones. Pray for church leaders and their families. Pray for your church. Pray for our nation. Pray for the lost. Establish a prayer list. Pray.
Attend Church Faithfully
The Lord Jesus Christ deserves your faithfulness. Attend every service of the church. A great deal of the strength of the church is based on the faithfulness of the people. Support special meetings at the church with your faithful attendance.
Give
God's work is to be supported God's way. The Bible teaches that we should pay the tithe and give our offerings. Practice tithing as a conviction. Bring the Lord's tithe with you to church each Sunday. Support the ministries of the church with offerings. By faith give to worldwide missions. Support the Christian education endeavors of the church. We cannot outgive God.
Witness to the Lost
Our Lord Jesus Christ came to seek and to save that which was lost. He left us on earth to tell others about the Savior. Determine to bring others to the Savior. Work to bring other families to Christ and to the church. Set a time to go. Make a list of names and addresses of people you want to reach for Christ.
Determine to Be a Five-Star Christian
This is a time when you can be a real help and encouragement to your pastor. May God help you to work together to see something beyond the ordinary accomplished for Christ through your church.